Homemade treats for dogs.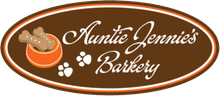 What's In The Bowl Pet Shop is proud to carry Auntie Jennies Barkery in New Berlin, Wisconsin. Our mission at Auntie Jennie's Barkery is to provide high-quality dog treats that you can feel good about giving your dog every day!
Dog Treats
Dog Treats: Apple Pupcake, Bacon Peanut Butter, Bacon Peanut Butter for Large Dogs, Badger Bones, Blue Birthday Bones, Brewer Bones, Brewers Shirts, Calming, Cheese, Cheese for Large Dogs, Grain Free Cheese, Grain Free Peanut Butter, Large Packer Shirt, Molasses Pineapple, Packer Bones, Peanut Butter, Peanut Butter for Large Dogs, Pink Birthday Bones, Salmon, Sweet Potatoes, Veggie, Veggie For Large Dogs.